Most credit unions have been quick to notice the growing demand and need to provide online services to their members. Online banking being was just the start and now the standard with a fast growing demand for mobile services also on the rise. While most credit unions are making the investments to increase their ability to provide services online; they are fighting a very uphill battle to market their core products effectively online.
Loans, Business services, banking, and investment products are some of the most competitive and expensive services to market online. (legal & insurance hold the top spots). CPC bidding (cost per click) for search traffic via Google Adwords can range from $2 - $15+ per click for most financial keywords...yikes. Why do we pay so much? Quality and targeting. We are used to spending money and effort raising awareness in the hopes that when people need and begin to search for a financial service they will think of us.
Search traffic provides a steady flow of highly targeted and qualified shoppers of our products which is why it's so valuable. Unfortunately most credit union websites are not designed or optimized to take advantage of this traffic. The process of optimizing our sites to rank for keywords in search engines is known as SEO (search engine optimization). This article is not designed to be SEO 101, but if you want to learn more here is one of my favorite beginner guides.
What today's discussion is really about is a fundamental change that needs to happen in the way credit unions think about and design their websites. As the title states we need to stop thinking about the website as just an online branch. Look at 99% of the credit union websites out there and essentially you have an identical product. It's no secret that online services; mainly online banking dominate the purpose and design of most of our sites. This has lead to the idea and thinking that the home page is basically the front door of the website. After all according to our analytics it's the where all of our traffic is coming from. Much like a brick and mortar branch we build our sites to bring users in the front and guide them through a simple flow to find what they need; always using the home page as the starting point. Just like in our branches we have members coming to do normal transactions, but we want them to notice and take advantage of other products and services as well.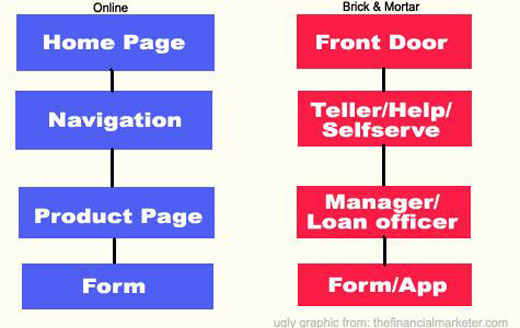 The results are typically that our home page turns into a virtual bulletin board of every single product we offer all fighting for attention that's very tough to get. When a user comes to your site to login getting their attention to a new task is very difficult. We all know this hence the common request to not be "buried" in yet another sub tab. This logic is why marketing teams need to really understand that the internet is searchable directory and not a highway.
People don't shop the way they used too; going from one store to another (or website). You can simply search for what you want and it's the search engine's job to try and give you the most relevant results to what you are looking for. They are always trying to improve this, which is why the process of SEO constantly evolves. So what does this have to do with your site design? Everything! If I search for a "motorcycle loan" Google is most likely to take me to your page with the most information about motorcycle loans, NOT your home page. Comparing the design of most credit union sites; our home pages rarely contain any searchable content about anything other than our brand name. Remember robots can't see or understand most of the graphic content we use.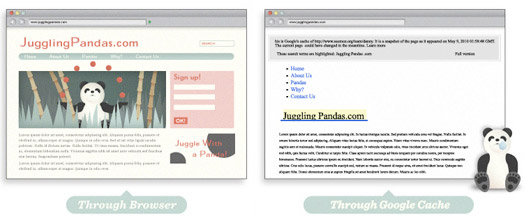 Image courtesy SEOMoz.org
So what needs to change?
We need to stop trying to place our products closer to the "front door" and start thinking about all of our product pages as their own front door to the website. Does your loan product page have a strong call to action? Is it filled with useful content? Is the content crawlable by search engines? Does it contribute move people into your main sales funnel? Imagine how silly and unhelpful the layout of your branch would be if a member came in the back door instead of the front. Aside from all the alarms going off they may not even know where to go next.
The above graphic is how people enter most websites and taking all this traffic from multiple directions fulfilling the needs, and still cross-selling our other products is the challenge we need to face. Worth noting is that while this graphic shows how traffic builds it may not reflect the numbers we all see. That is because our sites in many cases simply aren't competitive enough to even rank high enough for product based keywords to even generate any traffic at all. Out ranking big budget competitors like large banks, specialized companies, comparison sites, etc. is no easy task and remember virtually every service we offer is ultra competitive. So how do we increase our rankings? That's the million dollar question, and the right one to ask. By thinking of our website as a marketing tool capable of generating its own traffic from a variety of sources we can now start to develop a better inbound strategy.
Give me an action item!
I recently attended an AMA luncheon where the topic was SEO. The speaker gave a nice crash course covering basics, but one man asked during the Q&A "I'm not tech savvy and I'm just a small business owner what can I go home and do today with all this information?" One of the best questions I've ever heard at a seminar. So here is your action item...
Review your top 25 landing pages. Need a list? If using Google Analytics you can find this list under the content tab. You might be surprised at what pages generate entrance traffic. If certain pages generate lots of visits make sure they have the right call to action, the right information, and that they make sense to the person arriving there. Start with these pages that are already receiving traffic, and then you can start working on getting traffic to the ones that don't.
Brian
Brian Ostrowiak is the author of TheFinancialMarketer.com. As an interactive marketing specialist for a local credit union he is working to apply his years of experience with SEO, PPC, Social and online media buying to the credit union industry. Find more credit union online marketing tips check on his blog, and to discover more great credit union blogs visit CreditUnionFeed.com.